GLOBAL CAFE
Welcome to the UK! If you have just arrived or have been here for a while we would love to welcome you at Global Cafe. 
Our next event is on Tuesday 20th September and we will be thinking about British Culture amongst other things. See the flier for more info. 
Email globalcafe@stjohnstw.org if you have any questions.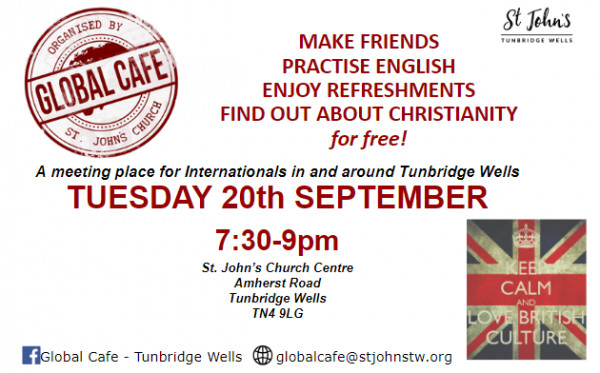 GET IN TOUCH
Jonny and Ruth Pullar run Global Cafe.  If you have any questions then they would love to hear from you. You can get in touch by filling in the form below:
GLOBAL CAFE
Global Cafe is a meeting place for internationals in and around Tunbridge Wells. 
It is a chance to make friends, practise English, enjoy refreshments and find out about Christianity. 
The next Global Cafe event is on Tuesday 26th April at 7:30pm. 
We are having a British History Tour! See below for details.  
Email globalcafe@stjohnstw.org for more information.